Our Mission
We deliver high-quality natural resource consulting services focused on developing long term relationships with customers in Washington, Oregon, and Alaska while nuturing a company culture of integrity, teamwork, and wellbeing. We believe strong, healthy relationships form the foundation of a successful company. 
Our Motto
Committed to helping people - one square foot, one acre, one watershed at a time ®
Our Values
Teamwork, Integrity, Excellence.
---
Longevity
Ecological Land Services, Inc. (ELS) was established in 1996 by our Founder/President, Francis Naglich.  ELS has developed into a respected environmental consulting firm serving Washington, Oregon, and Alaska. Francis Naglich along with co-owners Karey Bock, Mara McGrath, Michele McGraw, and Steffanie Simpson manage a staff of 30 highly experienced professionals in offices located in Longview, Washougal, Bremerton, Bellingham and Sunnyside Washington.
Experience
Our success in environmental permitting services reflects the diversity of our company and the broad expertise of our professional staff. We have extensive field experience east and west of the Cascades involving coastal systems, Puget Sound, Prairie communities, and the Columbia River. We also have ongoing projects in the unique ecosystem of Southeast Alaska. ELS also has a long history of working with cities and counties, as well as a variety of state and federal regulatory agencies.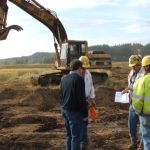 Savings
Our permitting approach translates into savings for our clients. We believe that if we are not saving our clients time and money in environmental permitting, then we are not doing our job. The ELS staff will assess what each individual project needs and will use innovative, creative solutions and strategies to achieve project success and client satisfaction. Effective proactive management is key to delivering a good product, staying within budget, and ultimately reducing overall project costs.